Friday June 9, 2017
RUM & RHYTHM™ BENEFIT
"The Ultimate Caribbean Epicurean Experience"
Price: Open to the public; $125
Time: 6:30 pm – 11:00 pm
Venue: Capitale, 130 Bowery, NY 10013
Sponsored by
Rum and Rhythm Benefit and Auction, The Ultimate Caribbean Epicurean Experience scheduled for Friday, June 9 returns to the historic Capitale.
Patrons will be given a virtual journey throughout the Caribbean through skillful set design and lighting displays using the colors of the Caribbean, as they experience the culinary diversity, live entertainment and the spirits of CTO member countries.  The return to this venue is part of CTO's efforts to continue to maintain the panache of this high-energy event, a fund-raiser for the organization's scholarship programme, the CTO Foundation.   Capitale, a Roman classic 1895 landmark adorned with Corinthian columns, Venetian glass, marble mosaic floors and 65 foot ceilings was the former Bowery Savings Bank building, designed by the famous architect Simon White, whose portfolio includes Washington Square Arch, the New York Herald building, The Tiffany Building, the Boston Public Library and several branches of the New York Public Library.
Rum and Rhythm Benefit and Auction showcases the talent of top Caribbean Celebrity Chefs and features cocktails by popular mixologists.  Caribbean vacations and other interesting pieces or art are also available at the Auction, so come prepared to bid.
RUM & RHYTHM CHEFS
Chef Andre Fowles – Jamaica
Anthony Smith – CTO
Chef Damain Leach – Barbados
Chef Charles Joseph – Turks & Caicos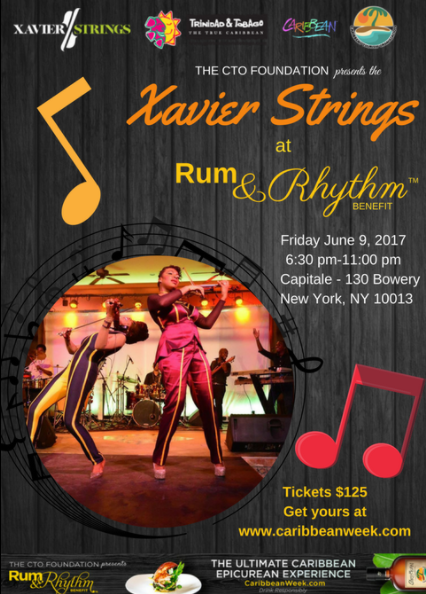 CTO's Rum and Rhythm by Slidely Slideshow. Music: http://www.bensound.com
This memorable evening will be the highlight of the social calendar for Caribbean Week in New York.  Top Caribbean personalities and celebrities make special appearances.  All proceeds go scholarships and study grants offered by the CTO Scholarship Foundation, a 501(c)(3) charitable organization that provides financial assistance to Caribbean nationals to pursue studies in tourism, hospitality and languages.
Rum & Rhythm™ Benefit & Auction attracts a demographic with the means and propensity to travel to the Caribbean, for the real experience.
Public sector members as well as and Private sector rum companies, hotels, restaurants are invited to participate and showcase the talent of their chef or mixologist.
Participant Information and Commitment Form for Rum & Rhythm (PDF)
Silent Auction
There is usually a Silent Auction at Rum & Rhythm™ Benefit & Auction.  All proceeds from the auction go to the Caribbean Tourism Organization (CTO) Foundation, which is a not-for-profit corporation registered in the State of New York formed exclusively for charitable and educational purposes under Section 501(c)(3) of the Internal Revenue Code of 1986.  The Foundation provides scholarships to Caribbean nationals in the areas of tourism, hospitality and languages.  Your support is critical to our ability to continue to assist these deserving Caribbean nationals and help make their dream of studying tourism, a reality.
Auction items for 2017 now listed below. To participate in this auction, go to